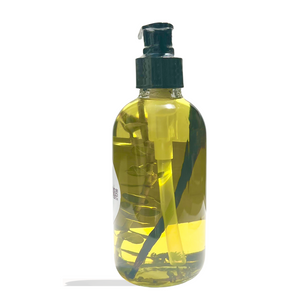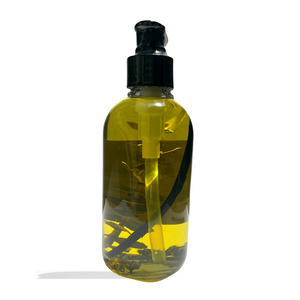 KingGlow Vanilla Body Oil
KingGlow Vanilla Body Oil, 8 oz
Indulge yourself in our smooth velvety vanilla textured body oil that helps neutralize free radicals working to reverse skin damage. Our KingGlow Vanilla body oil helps to slow down signs of aging like wrinkles and age spots while locking in extreme moisture. This light, nutrient-rich combination of pure vanilla bean and vetiver essential oil blends is formulated to deliver aphrodisiac instincts while significantly improving the texture and vibrancy of your skin.
Use: Apply drops all over body massaging into skin before or after a shower or bath. Can be used daily as needed. *May be slippery when wet 
*Vanilla Essential oil, Vetiver Essential oil, Sandalwood Essential oil, Juniper Berry Essential oil, Vitamin E oil, Grapeseed oil, Clove Essential oil, Frankincense Essential oil, Almond oil, Argan oil, Avocado oil,  Eucalyptus leaf, Madagascar Vanilla Bean pod
***ALL PRODUCTS INCLUDE PLANT/NUT BASED OILS. These statements have not been evaluated by the FDA. These products are not intended to diagnose, treat, cure, or prevent any disease. Natural ingredients may cause color variations in products over time. This is normal and does not affect shelf life or quality of items.