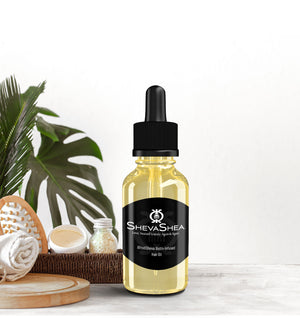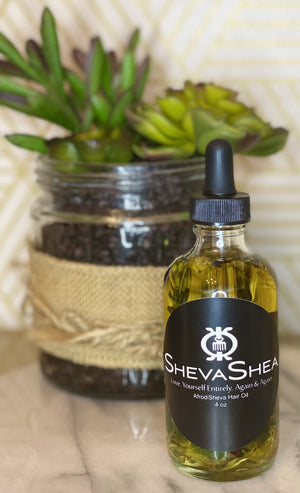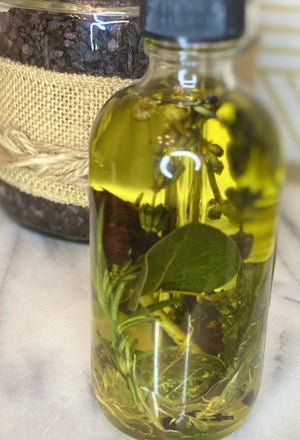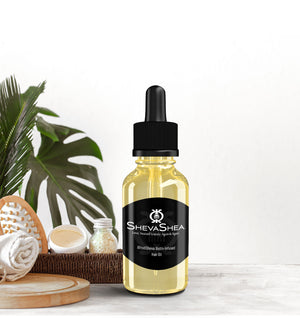 AfrodiSheva Biotin Hair Oil
AfrodiSheva Hair Oil, 2 oz & 4 oz
Introducing ShevaShea's powerful revolutionary hair oil. Our very own all-natural blend of AfrodiSheva Hair oil is a cruelty-free formula of pure premium oils, delivering soft citrus aromas in perfect harmony with rare dried flowers to extend your hair growth phases. AfrodiSheva Hair oil will protect, moisturize, and strengthen your roots bringing you thicker, fuller hair, naturally. Specially formulated for those experiencing hair loss and thinning.  AfrodiSheva Hair Oil also:
Helps regrow edges, thinning hair, bald spots
Helps treats alopecia, hair loss
Helps treats scalp conditions, dry, Itchy, irritated scalp
Helps promote growth of beards
Stimulates hair follicles for growth
Helps thicken fine hair
Helps cleanse the scalp, removing dead skin, dirt, and dandruff
Great for use on all hair types and styles! Light texture, won't weigh hair down. Okay for color-treated hair.
Use: Apply daily up to 10 drops throughout the hair and scalp, wet or dry.  Can be used daily or bi-daily.          
*Pumpkin Seed Oil, Plant-Derived Biotin, Jojoba oil, Almond Oil, Grapeseed Oil, Castor oil, Argan oil, Avocado oil, Turmeric Essential oil, Sweet Orange Essential oil, Tangerine Essential oil, Clove Essential oil, Orange Slices, Rosemary Stalk, Forget-Me-Not flowers, Rosebud, Lavender stalk
ALL PRODUCTS INCLUDE PLANT/NUT BASED OILS. These statements have not been evaluated by the FDA. This product is not intended to diagnose, treat, cure, or prevent any disease. Natural ingredients may cause color variations.