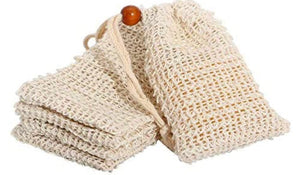 Twine soap bag
Material: natural sisal (100% plant)
Size:  5.3" x 3.9"
Produce rich and delicate foam, gently clear the oil and dirt on the skin.
Drawstring design, can be hung to dry after use, clean and hygienic.
Maintain good and slight friction, remove grease and dirt, stimulate face, arms, etc., bring refreshing and fun to the bath. Perfect to pair with ShevaShea BlackLove Black soap to keep consistent shape!