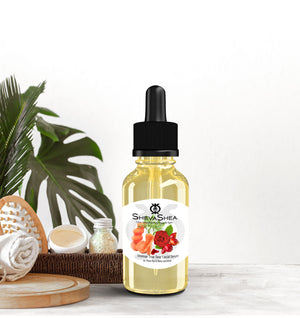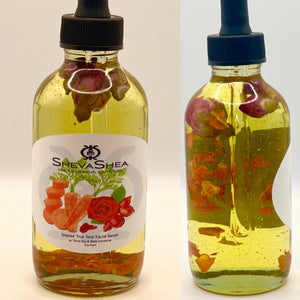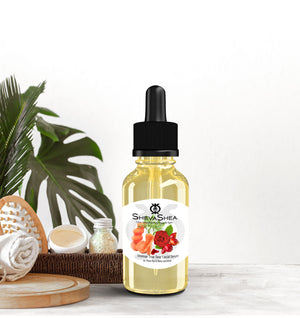 Intense 'True Tone' Facial Serum
Intense 'True Tone' Facial Serum, .51 oz & 2 oz
Introducing ShevaShea's powerful uni-sex revolutionary
Intense 'True Tone' Facial Serum
. Our very own all-natural supercharged
cocktail blend of 100% pure Carrot Seed oil, Rosehip oil, & Turmeric Essential oil repairs and renews skin unveiling even skin tones, restores healthy youthful glow, and may naturally help resolves 
visible discoloration from past UV cellular damage.
Our 'True Tone'  Skin Serum is a feather-light solution is designed to give skin a plump, moisturized feel. Infused with 100% natural ingredients, this silky solution helps to soften skin while minimizing the appearance of dark marks and blemishes. It 
is a cruelty-free formula of lightweight pure premium oils, no fillers, delivering soft rose aromas in perfect harmony with rare Pomegranate Essential oil and extraordinary Beta-Carotene ingredient infused from Carrot Seed Oil.
With consistent use, 
ShevaShea's Intense 'True Tone' Facial potent serum can 
visibly reduce the appearance of dark spots 
revealing a more even skin tone and healthy radiant glow. 
ShevaShea's Intense 'True Tone' Facial Serum also:
Has

 antibacterial, antimicrobial, and antioxidant 

properties.

Rich in vitamins A, B, C, D, and E along with essential fatty acids.
Has Beta-carotene-a powerful antioxidant with anti-aging properties
Helps

stimulate cell regeneration speeds up cell turnover and slow down premature aging.

Best plant-based facial oil for preventing and fighting acne without causing additional breakouts.
Boosts Collagen production with its vitamin C properties
Protects your skin from sun damage blocking damaging UV rays and free-radical damage; high in SPF protection
Regenerates and repairs skin, and effectively reduces and prevents wrinkles in the epidermis while fighting against premature aging.
Effective in lightening scars, blemishes, and dark spots for even skin tone
Although 'True Tone' facial serum is great for use on all skin types and shades, it is 
formulated with melanin-rich skin in mind. C
an be applied day and/or night.
Use: 
Massage a couple of drops onto damp face in morning or evening. May also be applied directly to scars, skin discoloration, or rashes
. Best after a shower while skin pores are still open. Can be used daily or bi-daily.
*Carrot Seed oil, Rosehip Oil, Grapeseed Oil, Turmeric Essential oil, Geranium Essential oil, Neroli Essential oil, Vitamin E oil, Argan oil, Pomegranate Essential oil, Rosebud, Dehydrated carrot
ALL PRODUCTS INCLUDE PLANT/NUT BASED OILS. These statements have not been evaluated by the FDA. This product is not intended to diagnose, treat, cure, or prevent any disease. Natural ingredients may cause color variations.