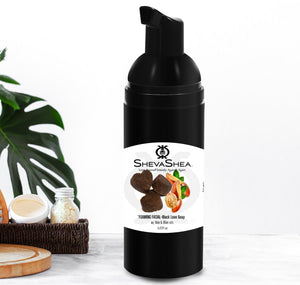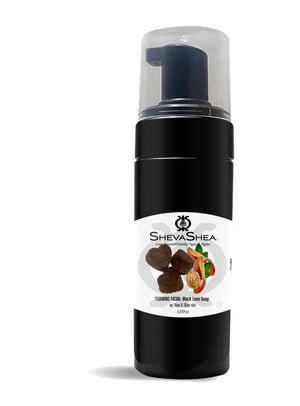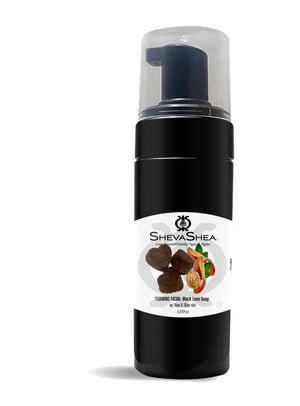 FOAMING FACIAL-Black Love Soap
FOAMING FACIAL-Black Love Soap, 5.0721 oz & 2 oz
Our 100% all-natural black soap facial/body bar is packed with antibacterial, antimicrobial, and antiseptic properties to help reduce fine lines, treat acne and the appearance of dark spots. Formulated to even help with the removal of makeup as well as aid in the reduction of skin irritations, acne breakouts, and skin infections. Our black soap formula helps reduce the impact of eczema, help thoroughly remove dead skin cells, all while helping your body absorb vitamin C, aid in collagen production resulting in the ultimate luxurious glow your skin deserves.
Use: Cleanse face, refrain from eyes and eye area,  washing in upward circular motion, using 1-2 pumps of foam from bottle. Okay for body and hair. Pat dry with a clean fresh towel. For best results use bi-daily or 2-3 times a week. Recommended to follow with our ShevaShea HydroGlow Shea Butter, or ShevaShea  oil for best results.
*Purified Water, Butyrospermum Parkii (Shea Butter from Ghana), Marula Oil, Aloe Vera Oil, Palm Kernel Oil, Orange Essential Oil, Tangerine Essential Oil, Extra Virgin Olive Oil, Theobroma Cacao (Cocoa) Seed Butter, Potash(Ashes of plantain skins, cocoa pods, shea tree bark)
ALL PRODUCTS INCLUDE PLANT/NUT BASED OILS. These statements have not been evaluated by the FDA. This product is not intended to diagnose, treat, cure, or prevent any disease. Natural ingredients may cause color variations.